Curio Lecter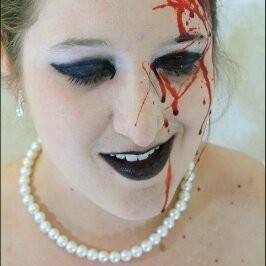 Curio Lecter is a genderless Primal Alpha who has been quietly traveling its Kink journey for the past 7 years. It is an award winning drag performer and the first non-binary title holding drag performer in New Mexico as Mx. Sidewinders 2017, and has dedicated much of its performance career to creating spaces and conversations surrounding the opening of the gender binary. On stage and online Curio is known as "the Bloody Maven of Burlesque" for their incorporation of Kink into their drag and burlesque performance.
Class:

Break the Binary!: Trans and Non-Binary 101 for the Leather Lifestyle
Always wondered what "cisgender" means? Never understood the different between trans,non-binary, gender non-conforming, and a bunch of other terms you just started hearing? Curious as to what it all means for you? Learn the terms, history, and identifies of the people outside the gender binary in this casual, round-table style class. Bring your questions for the trans and non-binary community and learn to be a good host, ally, or Leather Family Member to a trans person!